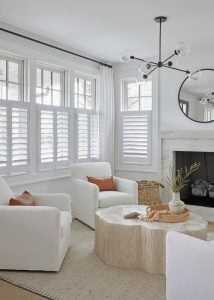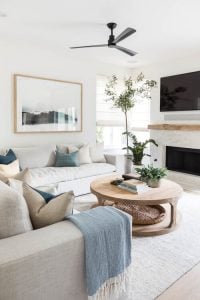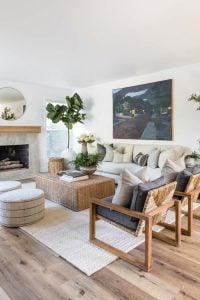 Fall 2022 Home Decor Trends and Design Styles You Will Love
Even though summer is still in full swing, autumn will be here before we know it! If you're in the mood to start shopping for fall home decor and interior design ideas, this is a great time to find on-trend items that will make it easy to transition your home from summer to fall. To help you get started, today I'm sharing the top fall home decor trends and design styles for 2022, along with affordable fall decor finds and autumn decorating ideas.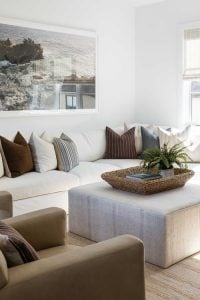 When is the best time to start decorating for fall?
I like to start scouting out the fall decorating trends in late August or early September, but I don't usually get too excited about fall decorating until the weather cools down a bit — or at least by the first day of fall (which falls on September 22 this year).
Whenever you decide to start decorating, you'll find that adding a touch of fall style to your home can be easy. Simply layer in some warmer, richer colors and weave in a few fall accents in a variety of textures to quickly transition your home from summer to fall.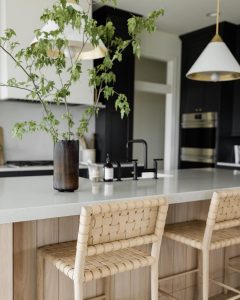 What are the fall home decor trends for 2022?
While summer home decor trends focused on a light organic feeling, this year's fall home decor trends are all about interesting shapes, warm neutral tones, and luxurious textures.
As you scroll through the fall decorating trends below, rather than feeling like you have to embrace an entire trend, think about how you might incorporate elements of the spaces that draw you in — whether it's a certain color, item, look, or feeling.
Most of all, don't worry about achieving a certain design style in your home. Since decorating trends are always evolving, we no longer need to adhere to a narrowly-focused aesthetic, such as mid-century modern, coastal, traditional, farmhouse, or modern style.
Instead, when decorating for fall–or any season–the goal should be to bring together a curated mix of pieces that perfectly reflects you, your lifestyle, and what you love.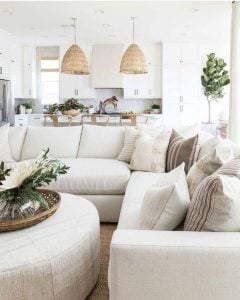 1. Earth tones
Earth tones and warm neutrals are making a huge comeback in 2022, and that trend will continue to grow in popularity this fall.
Warm tones of sand, cinnamon, mushroom, rust, camel, terracotta, copper, oatmeal, muted greens, and similar neutrals complement just about every other color palette, making them the perfect addition to any space.
Whereas last year we were still seeing lots of gray and bold cool tones in fall home decor, this year is all about warmer, softer, muted tones. So if you've already embraced neutrals and warmer hues in your home, you might not need to do much to update your home for fall!
You can learn more about incorporating neutrals in your home in my post, What is Coastal Grandmother Style? (and why I'm loving this trend).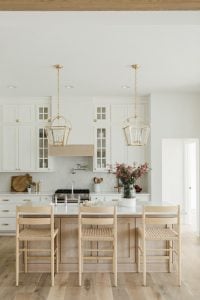 2. Natural wood
The natural beauty of wood creates a welcoming and calming environment for fall. And with the growing desire for lighter, airier spaces, wood adds a much-needed grounding effect.
Lighter, warmer wood tones are making a comeback, particularly in kitchen and bathroom cabinetry, while the popularity of gray-toned woods is on the wane.
However, don't despair if you have gray-toned wood flooring or other elements in your home. You can still easily incorporate warmer wood tones through coffee tables, side tables, chairs, and wood picture frames.
Wooden counter stools and wood cutting boards are a great way to bring a touch of warmth to the kitchen.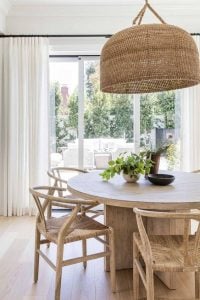 3. Woven elements
Woven elements in all their forms add softness to any space and are having a moment in 2022.
Think baskets in all shapes and sizes, woven pendant lights, natural fiber rugs, and cane and rattan furniture.
Woven counter stools are a great way to bring the woven look to your home. I share a collection of my favorite counter stools and barstools in this post: Beautiful Counter Stool and Barstool Ideas for Your Kitchen.
Woven pendant lights have been hugely popular for several years, and I don't see this trend going anywhere soon. Even something as simple as adding a chunky jute rug can bring a touch of warmth and visual interest to your space.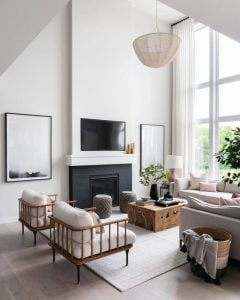 4. Textured fabrics and textiles
Once again, velvet, boucle, linen, and nubby textured fabrics are big in this year's fall interior design forecast, and I couldn't be happier about this trend.
For an easy fall facelift, simply swap out your lighter-weight throws, bedding, rugs, and pillows for thicker, heavier versions.
Choosing natural fabrics with weight and texture, like chunky cotton and wool throws, nubby boucle, velvet, leather, and weightier linen pieces instantly make your home feel cozier — even if you prefer a cooler color palette.
Rich velvet pillows are my favorite way to bring a touch of warmth to our home. Here's my favorite source for affordable velvet (and linen) pillow covers.
Textured fabrics mix well with all other fabrics, bringing a grounding and timeless quality to a space that will continue to resonate with our lifestyles in fall 2022 and beyond.
Adding in a few textured cotton, linen, wool, or velvet pillow covers or throws is enough to give your living room or bedroom a touch of chic fall decor in an instant.
Sometimes, one statement lumbar pillow and a pretty throw in a warm fall shade are all you need to update your bedroom for the new season.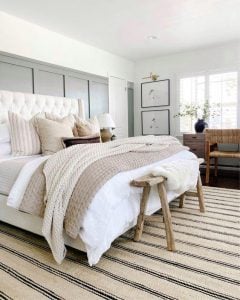 5. Tonal color palettes
Tonal color palettes lend a cohesive, modern look to any space — and they're one of the biggest design trends for fall 2022 into 2023.
If you want to experiment with this trend, try incorporating no more than three colors in a space, mixing and matching different textures, fabrics, woven elements, and natural materials within that tonal palette.
Choose your primary color scheme by pulling one to three colors from your area rug or a large piece of artwork; then keep the rest of the colors in your space in the same color range.
This trend ties in beautifully with the current popularity of earth tones in interior design, as blending different shades of warm neutrals is an easy and stylish way to modernize your spaces.
To create a layered look and add dimension, layer in pillows, throws, and other accent pieces within your chosen color palette.
For a modern look, you might choose all three shades within the same color family for a monochromatic effect, or add in one to two other complementary colors for a more traditional look.
If you'd like to add a bit of contrast to your spaces, think about adding a pop of black, via pendant lighting, a coffee table, lamp, side table, counter stools, or small decorative items. Cutting boards, vases, and kitchen accents in black and neutral tones bring a modern fall look to the kitchen. Paired with black, white and gray (and a touch of light wood) create a striking tonal color palette.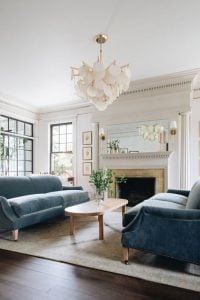 6. Mixing vintage and modern
Another decorating trend you'll see this fall is the incorporation of vintage pieces, like a beautiful antique dresser, within an otherwise modern space.
The unique blending of different design elements makes a space feel collected and unique. Vintage rugs are a great way to bring a touch of visual interest to a space.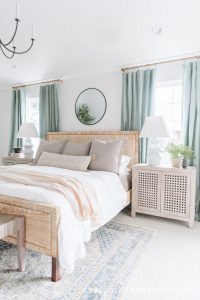 7. Coastal grandmother style
This home and lifestyle trend emerged in late spring 2022 and continues to grow in popularity. The coastal grandmother aesthetic is a modern mix of coastal style and Nancy Meyers inspired interiors, and you can read more about this trend in my post, What is Coastal Grandmother Style? (and why I love it).
Coastal grandmother style is all about a relaxed, elevated approach to home decor, clothing, and living — and it's a look and lifestyle everyone can embrace —even if you don't live near the coast and/or aren't a grandmother!
Coastal grandmother interiors might include easy-care white slipcovered furniture, neutral tones of the sand and sea, and natural and organic elements — all of which speak to a more relaxed, thoughtful, intentional way of living and decorating.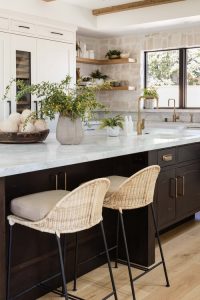 8. Curves
A 2022 design trend post wouldn't be complete without mentioning curves.
This fall, we'll continue to see plenty of curved chairs and sofas, rounded edges on coffee tables, curved accent pieces and mirrors, as well as interesting architectural features like arched doorways, curved cabinet fronts, and curved kitchen island countertops. Curves lend a modern look to a space, as well as creating a sense of softness and femininity.
However, don't feel like you have to go all out with arches and curves if you're on the fence about this aesthetic. There are plenty of simple ways to bring this design trend to your home through accent pieces like mirrors, stools, coffee tables, dining chairs, and ottomans, as well as smaller decorative items like orbs and lamps, as shown in the beautiful spaces below.
With just a few simple changes, you can easily update your home with warm and welcoming fall style on a budget. Even adding a single accent pillow or throw in an interesting color or texture can make a big difference!
Source: https://jane-athome.com/fall-home-decor-trends/